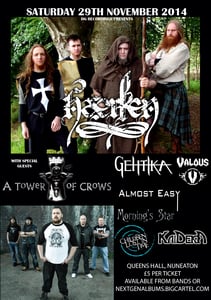 £

5.00
Nuneaton's 3rd U&C (Up & Coming) Showcase,
An Evening Of Metal With the Next Generation of Bands.
This Years Line Up
Haerken
A Tower Of Crows
Almost Easy
Children Lost In Time
Kaideka
Gehtika
Morning Star
Valous
Tickets only £5
Ticket Event Only
Doors Open 4:30pm
All Tickets Purchased Will Be Posted Up To 2 Weeks Prior The Event, Those Purchased Afterwards Will Be Held On The Door For Collection.
Please select who you are most going to see.